---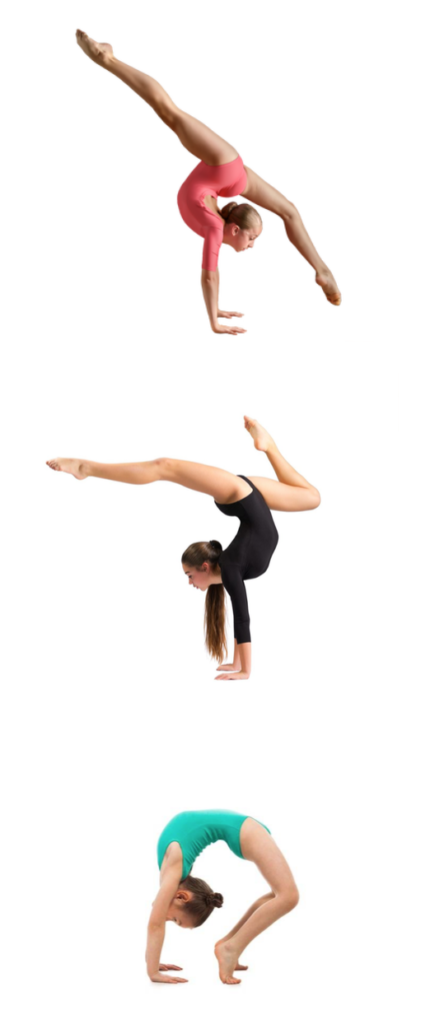 Acro Gymnastics is a fusion of athleticism of acrobatic and gymnastic elements merged into Dance. The dance movements in acro are founded in ballet, jazz, lyrical and modern dance styles. Acro is a subdivision of gymnastics, like rhythmic or artistic gymnastics.

The program from Kids to Advanced level is is based on safe and effective progressions with proven results in five divisions of Acro Gymnastics: Flexibility, Strength, Balancing, Limbering and Tumbling. Developed with input from professionals and experts in ballet, modern dance, jazz, contortion, artistic gymnastics, rhythmic gymnastics, sport acrobatics, yoga, acro yoga, pilates, physiotherapy, hand balancing and more.

All students will start from the very beginning so they are able to progress safely and quickly from one level to the next. Dancers who train in Acro Gymnastics have balanced development, are stronger and are more flexible.

Dancers work through twelve exam levels, each level is designed to create a well balanced Arco gymnastic dancer. Acro Gymnastics Exams take place at the end of each level and are accredited by the International Acrobatic Arts Board of Examinations.
---
OUR ACRO PRE SCHOOL
Children start classes at age 3 with Acro Pre school. These classes focus on learning basic acro positions, such as Log Rolls, Summersaults, Pike Position, Pre Cartwheel and locomotive skills such as, skipping, marching, jumping, hoping and balancing. The focus is also on, classroom behaviour skills, movement concepts, cooperation and social skills. The magic is in the repetition, the report cards, colouring pages, imaginary play, fun and games.
Click here to enrol and receive more information on Acro classes.

Click here to like our Acrobatic Arts Malta Facebook Page